Introduction
Standards and labels (S&L) are prominent elements in China's sustainable energy initiatives. China's General Administration of Quality Supervision, Inspection, and Quarantine (AQSIQ) is responsible for the review and approval of new energy standards, working under the State Council of the People's Republic of China (PRC) and in cooperation with multiple commissions. As part of China's new energy initiatives, China has implemented a series of minimum energy performance standards (MEPS) and expanded the coverage of its voluntary energy efficiency label for residential, commercial, and industrial products.
Chinese energy standards are organized hierarchically in four levels: National Standards, Professional Standards, Local Standards, and Enterprise Standards. National Standards for technical requirements are unified nationwide. Professional Standards may be developed for specific industries when no National Standards are available. When neither National Standards nor Professional Standards are available, Local Standards may be developed within a local area or province to provide unified requirements for safety or hygiene of industrial products. At the most granular level, individual companies may develop Enterprise Standards when no National Standards, Professional Standards and Local Standards are available.
Basic Organization
China's primary decision-making bodies involved in the S&L legislative process include the General Administration of Quality Supervision, Inspection and Quarantine (AQSIQ), National Development and Reform Commission (NDRC), Standardization Administration of the PRC (SAC), China National Institute of Standards (CNIS), China Quality Certification Center (CQC), and China Association for Standardization (CAS).
The primary functions, roles and responsibilities of China's S&L decision-making organizations are shown below: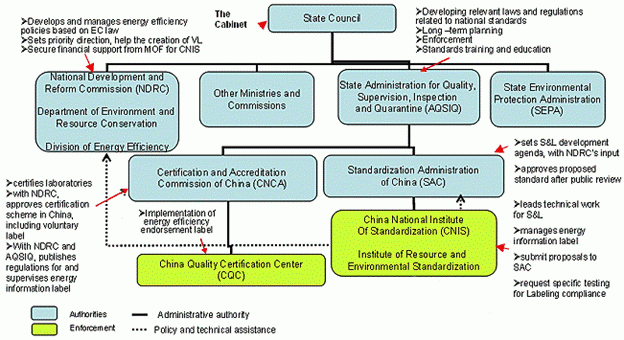 Legislative S&L History
Implementation of China's energy efficiency S&L is governed by a variety of laws and regulations and carried out by several related agencies and departments. The primary law of relevance is the Standardization Law of PRC and the Energy Conservation Law of PRC.
S&L Regulatory Process
China's National Standards may be either mandatory standards (GB) or voluntary standards (GB/T). Procedure for establishing a National Standard follows GB/T 16733-1997 Stage Division and Code of Procedure for Development of National Standards or the National Administrative Regulation of Standards. The normal regulatory procedure involves nine stages as shown below: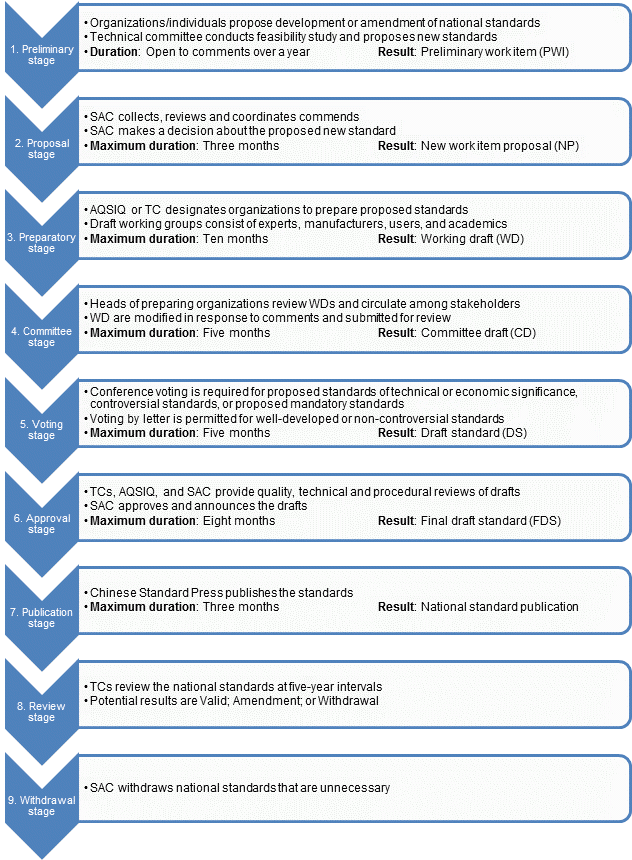 A quick regulatory procedure is possible in situations when relevant standards will be developed or revised to be IDT (Identical) or MOD (Modified) to international standards; IDT or MOD to advanced foreign standards; amendments of existing GB standards; or upgrades from other level standards.