Refrigeration
Refrigeration increases productivity for families and businesses, reduces agricultural waste, and extends the shelf-life of health-saving medicines.
Currently, more than a hundred million on-grid refrigerators are sold annually around the world. Refrigerators are also one of the most in-demand household appliances in off-grid markets. Estimates show annual spending on off-grid refrigeration products in 2020 could reach USD $1.1 billion, given expected technology innovation leading to increased energy efficiency and price reductions. As global temperatures continues rising, refrigeration will become that much more indispensable.
Ensuring that refrigeration is efficient is crucial, as refrigerators are often the first major appliance a household or business purchases and have a 24-hour power cycle.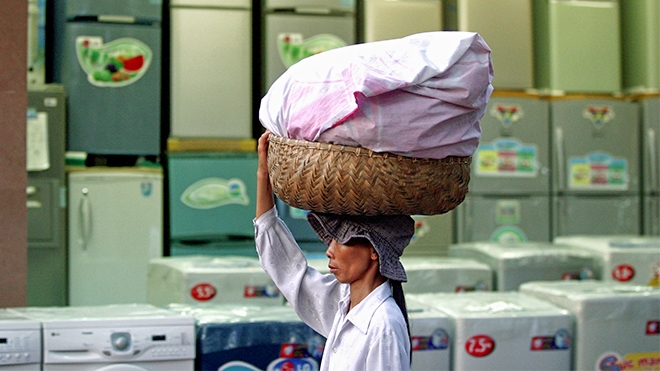 Climate Impacts
Electricity from residential refrigerators accounts for approximately 10% of global energy consumption in households. The best available refrigerators on the market, however, could reduce this energy load significantly, as they consume 60% less electricity than conventional models.
In developing countries, 160 million metric tons of CO2 emissions could be avoided annually by 2030 if the most efficient technologies currently available are adopted. This is more electricity than is currently consumed in Thailand per year and would avoid the need for added energy infrastructure equal to nearly 70 medium sized power plants.
Energy Efficiency Progress
Innovations in Refrigeration Technology - Consumers get more space & higher efficiency at lower prices. Refrigerator prices have fallen even as standards have been put in place.
Nearly 70 countries have policies in place to improve the efficiency of refrigerators sold on the market. Refrigerators are generally the first large appliance consumers purchase and the first product that policymakers choose to regulate. Over 150 million new refrigerators were sold in 2015, and nearly 1.5 billion are already in use around the world.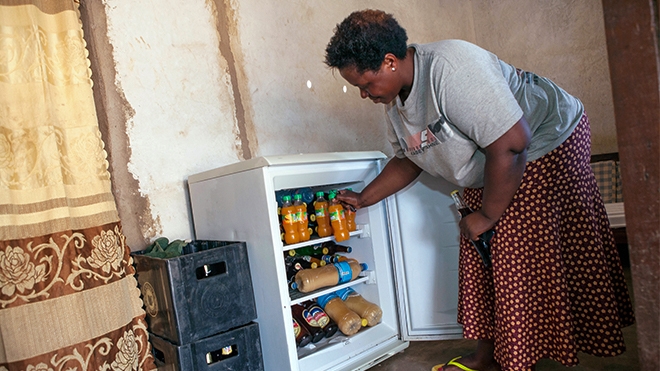 Social Impact
Access to refrigeration allows families—especially the women and children in those families—to spend significantly less time on food gathering and preparation, freeing them up to pursue other life-expanding activities. At-home refrigerators also lower the chances of food-borne illnesses, which afflict 1 in 10 people globally every year (WHO). Of the 600,000 annually who fall ill, more than half die.
Africa has the highest burden of foodborne diseases per population. Most food-related deaths in the region are a result of consuming contaminated eggs and poultry, killing 32,000 a year —making up more than half of global deaths from foodborne disease.
In commercial contexts, refrigeration allows small business owners to sell cold drinks in hot regions, where such a simple commodity is rare and also enables people to run restaurants. This boosts economic livelihoods.
In health contexts, refrigeration is vital. Keeping vaccines and other important health-related items cold literally saves lives.