Introduction
The U.S. makes extensive use of minimum standards, endorsement labels, and comparative labels to improve the energy efficiency of equipment and appliances.
The U.S. Department of Energy's (DOE) Appliances and Commercial Equipment Standards Program develops test procedures and minimum efficiency performance standards (MEPS) for residential appliances and commercial equipment. The first appliance standards were enacted in 1987, and since that time a series of laws and DOE regulations have established, and periodically updated, energy efficiency or water use standards for over 50 categories of appliances and equipment used in the residential, commercial and industrial sectors.
Since 1980, manufacturers of certain appliances have been required to attach comparison labels to their appliances to give consumers important information about energy use. The U.S. Federal Trade Commission's (FTC) Appliance Labeling Rule currently requires EnergyGuide labels on refrigerators, freezers, dishwashers, clothes washers, room air conditioners, water heaters, furnaces, boilers, central air conditioners, heat pumps, pool heaters, and televisions.
The U.S. DOE and the U.S. Environmental Protection Agency (EPA) jointly manage ENERGY STAR, a successful voluntary endorsement labeling program that began in 1992. The ENERGY STAR label is available for use on more than 60 product categories including home and office electronic equipment, buildings, and household appliances.
Basic Organization
The responsibility for standards and labeling in the United States is split among three agencies – DOE, EPA, and FTC. The breakdown of responsibilities is pictured in the diagram below.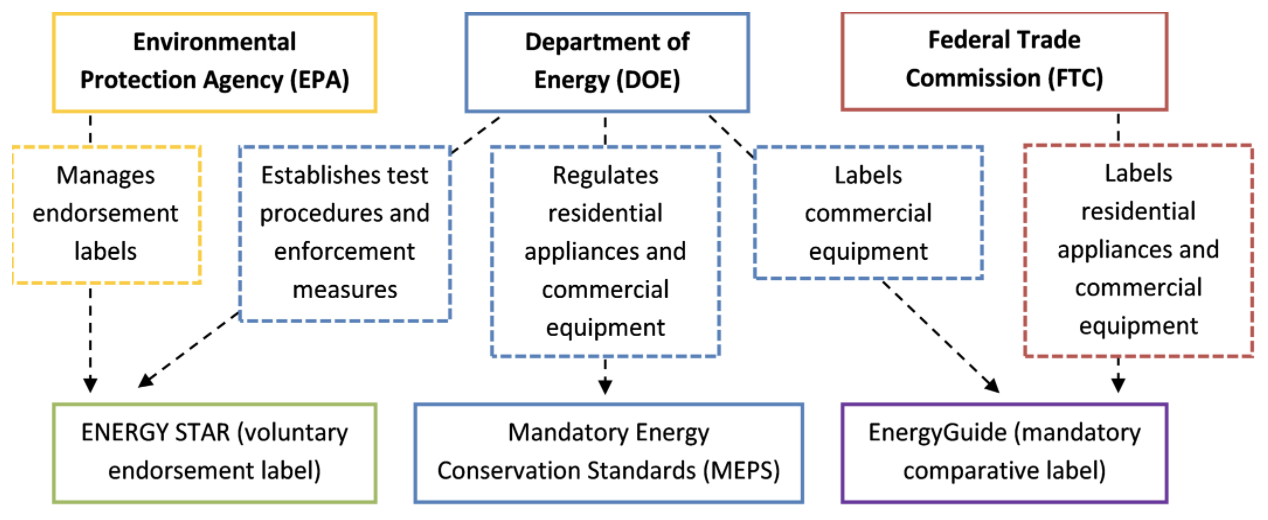 Legislative S&L History
The movement for federal appliance efficiency standards started in the 1970s, when several states were adopting appliance efficiency standards. The Energy Policy and Conservation Act of 1975 (EPCA) established a federal energy conservation program for major household appliances by calling for appliance efficiency targets and mandatory labels. However, little progress was made to establish standards until the 1980s.
The FTC's Appliance Labeling Rule went into effect in 1980, requiring manufacturers to attach comparison labels to select products. By 1986, appliance manufacturers realized that uniform federal standards were preferable to a variety of state standards. The National Appliance Energy Conservation Act of 1987 established minimum efficiency standards for many household appliances. Congress set initial federal energy efficiency standards and established schedules for DOE to review these standards.
The Energy Policy Act of 1992 (EPAct) added standards for some additional products, and allowed for the future development of standards for many other products. EPAct also provided for voluntary testing and consumer information programs for office equipment, luminaries, and windows. In that same year, the EPA introduced ENERGY STAR as a voluntary endorsement labeling program.
The Energy Independence and Security Act of 2007 (EISA) also added standards for some additional products and included provisions to expedite the standard-setting process.
S&L Regulatory Process
A federal standard for energy or water conservation products preempts state standards. States may petition DOE for an exemption from federal standards, under certain circumstances.
The diagram below outlines the process, led by DOE, for developing or revising standards and test procedures.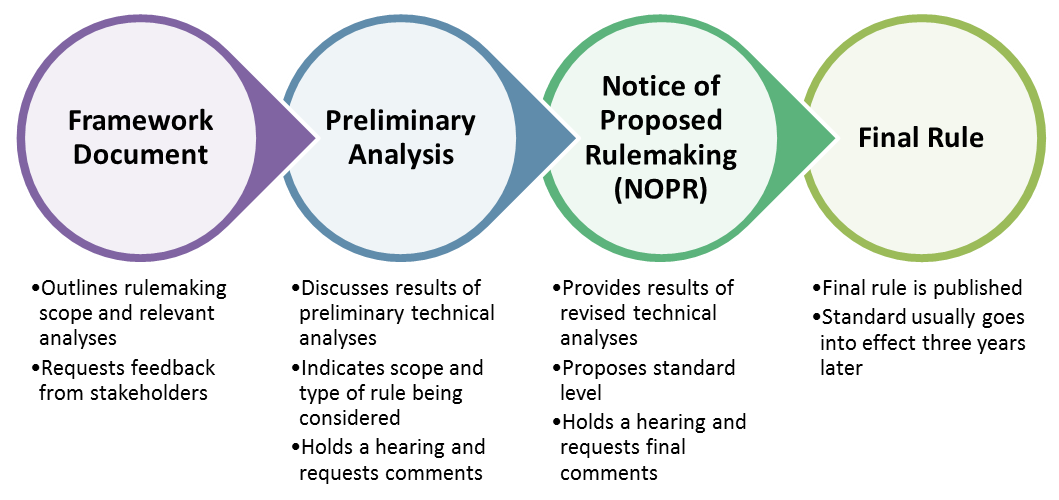 Voluntary endorsement labels follow a different process for development and revision. EPA and DOE consider the following criteria when determining whether to develop or revise ENERGY STAR product specifications:
Significant energy savings will be realized on a national basis;
Product energy consumption and performance and can be measured and verified with testing;
Product performance will be maintained or enhanced;
Purchasers of the product will recover any cost difference within a reasonable time period;
Specifications do not unjustly favor any one technology; or
Labeling will effectively differentiate products to purchasers.
Additional criteria can trigger the revision of an existing ENERGY STAR specification. Generally, if ENERGY STAR-qualified products in a particular category make up at least 50 percent of the market, this will prompt consideration for a specification revision. However, there are other factors that weigh into the decision, such as:
A change in the Federal minimum efficiency standards;
Technological advances in energy efficiency that allow a revised ENERGY STAR specification to capture additional savings;
Product availability;
Significant issues with consumers realizing expected energy savings;
Performance or quality issues; or
Issues with test procedures.
Before developing or revising an ENERGY STAR specification, Product Development teams follow an established evaluation process (see diagram below) which draws upon the expertise and resources of other stakeholders, including manufacturers, utilities, environmental groups, and other government agencies. This process leads to better-informed decisions, ensures that new product specifications are consistent with guiding principles, and ensures that ENERGY STAR's actions are effectively communicated to stakeholders, particularly in new target markets.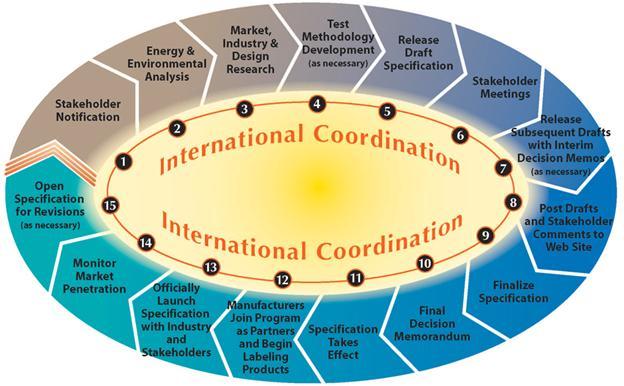 ENERGY STAR Specification Development Cycle