Designing a Consumer-Centric Energy Label Awareness Campaign in Kenya ...
Designing a Consumer-Centric Energy Label Awareness Campaign in Kenya ...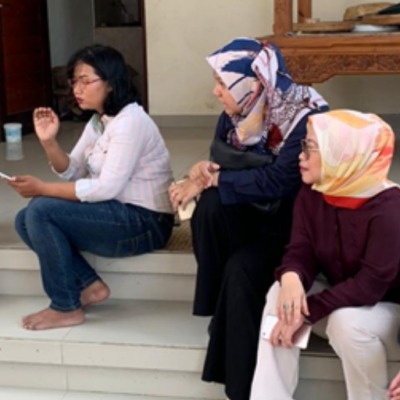 New CLASP research on consumer energy use and residential appliance markets in Indonesia reveals an opportunity to significantly cut carbon emissions through product efficiency policy. Indonesia is the fourth-largest country by population but has only one appliance efficiency standard, leading some to describe it as the world's largest untapped efficiency policy opportunity.
Over the past year, CLASP worked with local partners to conduct a survey of residential energy end-use and analyze the market for four key products: lighting, rice cookers, refrigerators and fans. Based on that data, we proposed tiered product efficiency standards that, if adopted in 2020, would together reduce electricity use by 67 TWh cumulatively through 2030 and avoid 59 Mt of CO2 emissions over the same period.
Indonesia is the 13-highest global emitter of carbon from the energy sector. Residential electricity has doubled over the past decade and will continue to grow as rising living standards spur demand for air conditioners and other energy-intensive appliances.
CLASP's previous discussions with the Indonesian Ministry of Energy and Mineral Resources' Directorate General for New Renewable Energy and Energy Conservation (EBTKE) had identified a lack of product data as an obstacle to efficiency policy development. So in 2019, we teamed up with local partner Ipsos to survey households in all 34 of Indonesia's provinces to document the number, power capacity, and usage of more than 40 household appliances and assess their contribution to national energy consumption.
Complementing that broad-based energy picture, we worked with EDS, PwC, and Ipsos on comprehensive market studies for key energy-consuming products to assess sales, local manufacturing, the range of product efficiencies in the market, efficiency test methods, laboratory capacity, and other factors. We presented the end use survey and market studies to stakeholders including industry, government, and civil society representatives at a workshop in Jakarta in November 2019.
Based on the market studies, CLASP developed draft recommendations for minimum energy performance standards for lighting, rice cookers, refrigerators and fans that would meet multiple policy goals: reduce energy costs for households, reduce demand on the electric power grid, and address Indonesia's commitments under the Paris Climate Agreement. The chart below shows the climate emissions reductions associated with those recommended efficiency levels: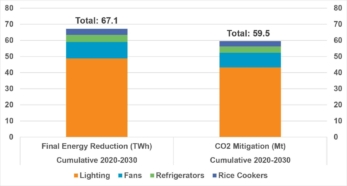 During meetings in Jakarta in January, manufacturers and government officials reached preliminary agreement on energy performance requirements and consumer labeling for refrigerators, rice cookers, and fans. EBTKE continues to negotiate with stakeholders on lighting requirements even as it moves forward in translating the agreed-upon efficiency requirements into regulation, though there have been some delays related to the COVID-19 response.

Policymakers are also looking ahead toward additional efficiency policy opportunities. Possible areas for future work include water dispensers, which heat water around the clock, and televisions, which are found in 93% of Indonesian households.
Key insights from the consumer survey and market studies:
| | |
| --- | --- |
| | Fans are the primary cooling appliance in Indonesia, and are responsible for as much national electricity consumption as air conditioners. Efficiency policies similar to those of neighboring Malaysia would result in reductions of 10 TWh and 9 MtCO2 cumulatively through 2030. |
| | LED bulbs are now dominant in Indonesia, but older, inefficient CFLs and incandescents continue to be used because of their lower up-front cost. Upgrading all households to the latest LED technologies would not only save money over the life of the products but would result in the largest energy impacts of any of the policies that CLASP evaluated: 49 TWh and 43 MtCO2 reductions cumulatively through 2030. |
| | Rice cookers are used 1.5 times per day on average, including an average 7.2 hours per day in the machine's keep-warm mode. Their heavy use and high power draw makes them the largest residential power consumer nationally. CLASP-proposed policies would result in reductions of 4 TWh and 3 MtCO2­ cumulatively through 2030. |
| | Indonesia is a net exporter of refrigerators and ships products that comply with efficiency policies throughout Asia and around the world. Applying similar efficiency policies at home would result in reductions of 4 TWh and 4 MtCO2 cumulatively through 2030. |
| | CLASP's Indonesia-wide appliance energy end-use survey found additional opportunities for energy and CO2 reductions from products including televisions and hot water dispensers. |
CLASP has been supporting EBTKE for the past 5 years. Starting in 2015, one year after Indonesia's National Energy Plan mandated standards and labeling for energy-using equipment, CLASP made recommendations and reviewed the proposed compliance framework. Between 2015 and 2017 CLASP provided policy briefs, held an air conditioner policy and testing workshop, and organized a study program for Indonesian policymakers on the implementation of appliance efficiency in India.
Find the new Indonesia residential end-use survey report here, and follow these links for the market studies on lighting, rice cookers, refrigerators and fans. For more background on CLASP's work in Indonesia see this article and this paper on lighting efficiency opportunities.
Subscribe
Stay updated with the latest news and announcements.
Subscribe